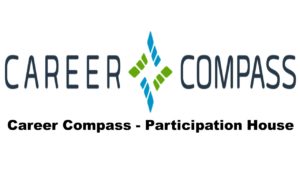 Career Compass-Participation House
 In 2018, Participation House was successful in obtaining the Employment Modernization Fund (EMF). This funding has provided us the opportunity to partner with Community Living Essex County and bring Career Compass to Durham Region. Career Compass-Participation House is a modernized employment service that was developed to strengthen and promote an inclusive community.
Career Compass-Participation House provides direction to job seekers searching for meaningful employment and guiding employers in creating and sustaining an inclusive workplace culture. This is done through a variety of means:
Engaging with job seekers
Networking and developing community partnerships
Ensuring the employee is receiving minimum wage or better
Supporting employers to create and sustain an inclusive workforce
Ensuring both the employee and employer needs and expectations are met and maintained.
Employment Services – A Multi-Dimensional Approach
Securing employment creates a sense of purpose and belonging in one's community. It promotes opportunity for people to flourish in a new role and to focus on one's professional development. Gainful employment not only promotes inclusion. It is also a key ingredient to greater financial independence and quality of life.
With this in mind The Participation House Project (Durham Region) has expanded their repertoire of supports and services to include a spectrum of Employment Supports that can meet you were you are at and help you to get where you want to be. To best support you we have organized our information and opportunities into our Upskills Learning Continuum that helps lead you on a focused approach to continuous learning and personal development. 
For more information contact Tracy McGarry: tmcgarry@nullphdurham.com
Employment Readiness – Pre-Employment Training
Employment Readiness is a 6 week, fee for service, pre-employment opportunity for adults with developmental disabilities. The course is designed to assist job seekers to identify their own strengths, interests and employment objectives.
The course includes of in-class participation, guest speakers along with workplace tours. There are opportunities to obtain First Aid and CPR certifications along with other certificate training programs:
WHIMIS
Professional Communication
Resume Building
Conflict Resolution
Interview skills
Personal Appearance and Grooming
Job Sampling
Public Transportation
The course is designed to support each participants individual development.
For more information contact Tracy McGarry at  tmcgarry@nullphdurham.com
Supported Employment- Steps to Sustainability
The Participation House has partnered with the Municipality of Clarington to secure the operation of its concession stands at Rickards,  and South Courtice Arena's (all located in Clarington). Through this new initiative, we will be providing employment opportunities to adults with developmental disabilities, who will receive hourly wages at the current minimum wage rate.
For more information contact Tracy McGarry at  tmcgarry@nullphdurham.com
Champions for Employment – Steering Committee
The Champions for Employment Steering Committee is a volunteer based committee that  assists Career Compass-Participation House to develop community awareness of the programs, network and market opportunities for people with developmental disabilities. 
For more information contact Tracy McGarry, tmcgarry@nullphdurham.com