Person-Centred Planning & Screening Assessments
Understanding Personal Goals
The goal of Person-Centered planning is to promote person directed support, personal choice, independence, individual rights & responsibilities, and social inclusion.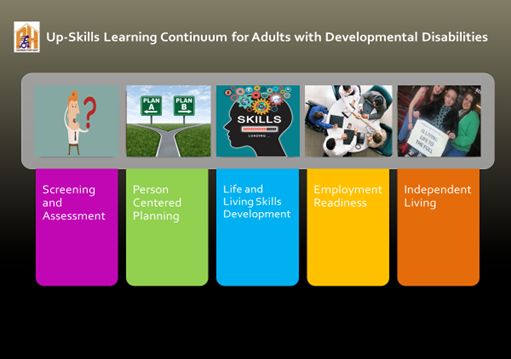 Our services are built on progression through our Upskills Learning Continuum.
Areas explored and assessed during the planning process:
Natural supports & resources currently in place? Neighbors? Friends? Community groups and any other memberships?
The Person's current goals; Skill development, Budgeting, Employment, Personal Empowerment, Relationship development?
Establishing priorities will determine the breakdown of these goals into an individual support plan for Skill Acquisition.
Once priorities and goals are determined, we can explore services available within the community, and begin working towards the development and acquisition of these goals. This will no doubt ensure skill development, self-determination, and self-sufficiency.
If you wish to explore having a Person Centered Plan developed please contact Lisa Johnson, Service Manager- Community Outreach at ljohnson@nullphdurham.com
Passport Funding Resources
Are you 18 years of age or older with a Developmental Disability and wanting to access funded supports and services?
Your first step to access services and supports is to contact DSO (Developmental Services Ontario) http://www.dsontario.ca/applying-for-services-supports
Once you contact the DSO, they will help you begin the application process to determine service eligibility.
Now that you are 18 years have you applied for ODSP (Ontario Disability Support Program)?https://www.mcss.gov.on.ca/en/mcss/programs/social/odsp/ 

Are you or a loved one seeking Supports or Services and currently waiting for a funded vacancy?  Do you know that you can use your ODSP funding to financially assist with paying for services provided by an agency offering fee-for-service programming.  We have options if you require more info contact: Lisa Johnson, Service Manager – Community Outreach at ljohnson@nullphdurham.com
If you are having difficulty navigating the DSO, require assistance with ODSP or need further information about any of the above service's for yourself or a loved one please contact Lisa Johnson, Service Manager-Community Outreach at ljohnson@nullphdurham.com.
We would be happy to assist you further with assessment, and getting you connected to the supports you may need to be connected to.